1. Scope of delivery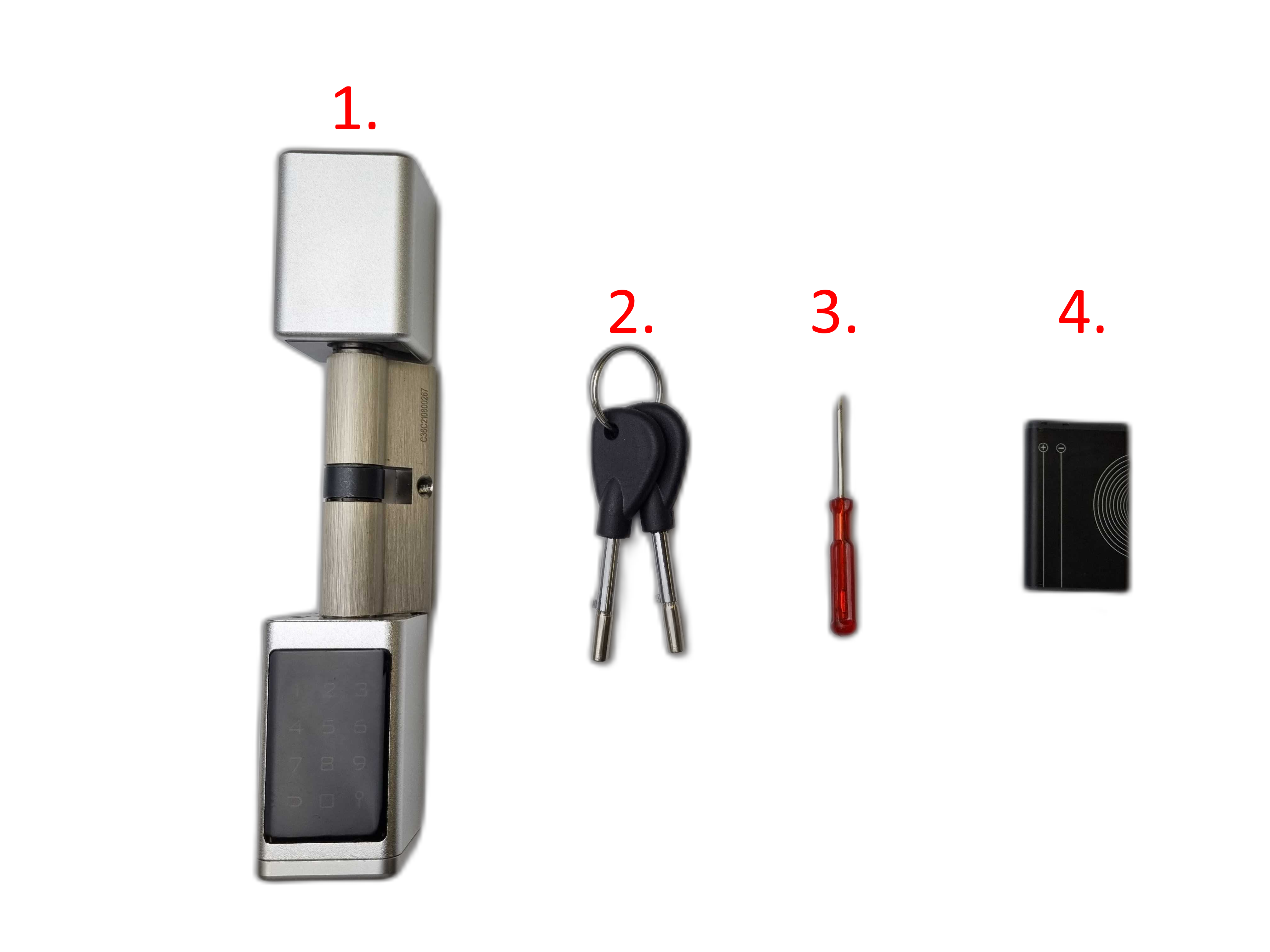 The package contains:
Smart WiFi cylinder
2x emergency key
Allen key / screwdriver (Adjusting cylinder length)
Battery



2. Technical data
Article nubmer

WZ101000

Operating temperature

-20° to 60°C

Operating humidity

10%RH to 60%RH

Frequency

2,4 GHz

Transmit power

100mW

Protection class

IP44

Numbers of media

1000 RFID - media

150 Pincodes

Power supply

700mAh Li-Ion battery 3,7V – 2,59Wh
3. Step by step assembly
3.1 Cylinder structure
Topview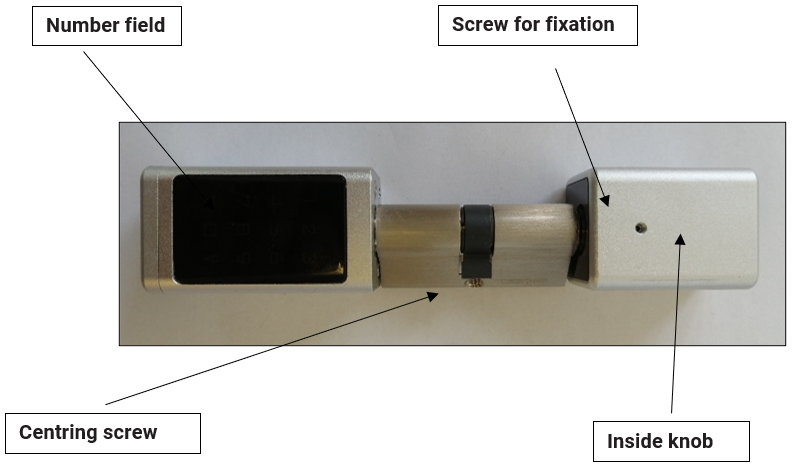 Frontview (without cover)

3.2 Remove battery cover
First remove the rubber cover by pulling on the small nub. You can then pull out the battery. The battery is inserted upside down when delivered so that the battery charge does not decrease during transport.

3.3 Insert battery
Now you can push the battery in the right way round until the small safety hook snaps into place. Please pay attention to the direction in which the battery is inserted. When inserting the battery, the writing on the battery must be legible or on top. If the battery is inserted correctly, a signal sounds and the number field lights up. You can then close the rubber band and the cover.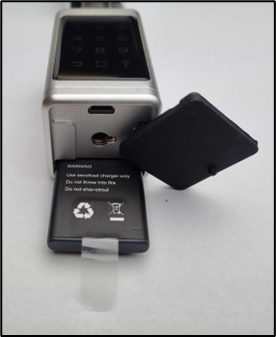 Attention: For the larger cylinder (with round outer knob), 3 x AAA batteries must be inserted instead of the rechargeable battery.
To remove the battery from the housing again, press the securing hook in with the Allen key/screwdriver supplied and at the same time pull the battery out by the transparent tab.

3.4 Remove inside knob
Use the enclosed Allen key to loosen the small screw of the metal sleeve. Depending on the required cylinder length, you can now adjust the inner length of the cylinder. Finally, you can screw the inside knob back in place. For installation in the door, the inside knob must be completely removed.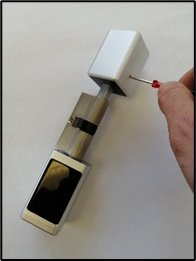 3.5 Mounting on the door
Before you can start the assembly, you must remove your old cylinder. To do this, remove the centring screw (visible in the red circle). Then you can push the old cylinder through or pull it out.
Now you can slide the SOREX SMART WiFi cylinder into the lock case from the outside in. Make sure that the side with the display is on the outside of the door. After the cylinder has been fitted in the door, the cylinder must be fixed again with the centring screw.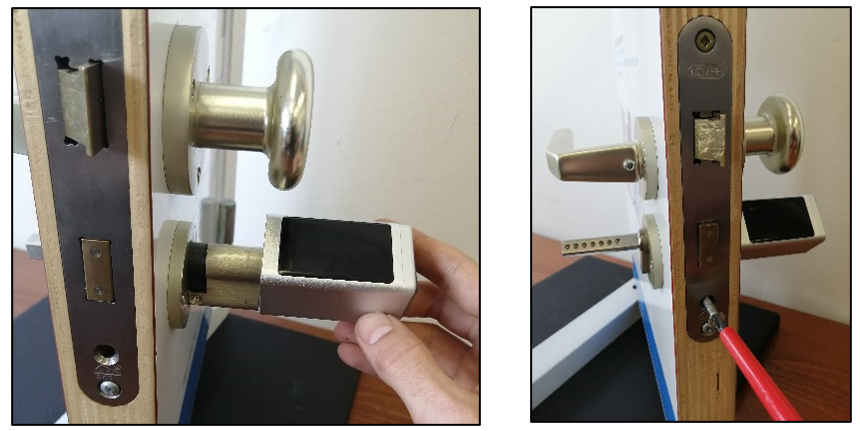 3.6 Fasten inside knob
Once you have fixed the cylinder to the door using the centring screw, you can refit the inside knob. Here you can again vary the length of the cylinder and then tighten it with the screw and the Allen key supplied. Now your cylinder is ready to be used.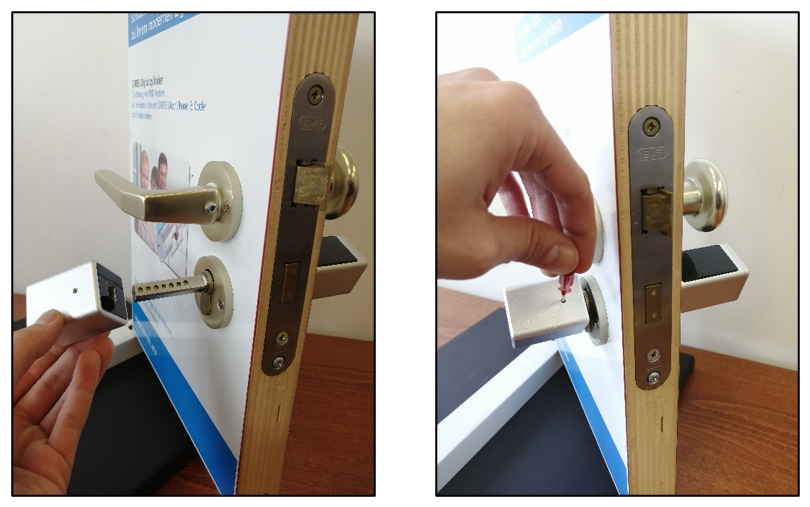 4. Smartphone App
Search for the SOREX SmartLock app in the Google Play Store or Apple Store and install it.
You can find instructions for the SOREX SmartLock app here.